StudentFilmmakers Magazine: What was one of your most favorite scenes to shoot and why?

Paige Thomas, SOC: One of my favorite scenes to shoot, recently, were the puppy scenes in Dear Zoe. There were several German Shepherd puppies in some of the scenes and they were the cutest thing I've ever seen. Set in the working class area of Braddock, PA, the visuals are stunning. Cinematographer Joel Schwartz did an incredible job bringing out the character of the area as well as the visual story line. Dear Zoe, in general was an amazing experience, the actors were captivating and the story was very captivating. The movie is not out yet so I can't really elaborate. The wedding scene in Masters of Sex finale was really enjoyable as well. Joe Gallagher lit it amazing and beautiful. The end of the series was such a hopeful and revolutionary tale that it was inspirational and thought provoking. Did I just double dip?

StudentFilmmakers Magazine: Can you tell us about some of the key differences shooting for episodic television series and feature films in your experience?

Paige Thomas, SOC: TV seems to be faster paced in terms of product delivery pressure, and features seem to have a bit more time for shot development and overall production. The last few years I've been mostly doing TV but was fortunate to be on a film in Pittsburgh last fall. It had so much heart and soul, it reminded me why I got into the business. I suppose the heart and soul element of features seems more connected to the product in my opinion. TV is wonderful too, but there seems to be a quicker pace to get the product done and move onto the next episode, scene, shot etc.

StudentFilmmakers Magazine: What was one of the most important things you learned on set?

Paige Thomas, SOC: Be patient. I tend to be impatient, and what I'm working on, always, is being patient. Oftentimes, there's not much time on set, and I want to get everything done yesterday. I recommend to slow down, be present and the work will get done. Oh, and develop your poker face and a thick skin. Don't take things personally, and keep passionate about the work! We are so lucky to be part of this incredible art form called film. Kindness goes a long way, it's a team sport.

StudentFilmmakers Magazine: If you could share your Top 3 Camera Movement Tips for student filmmakers and aspiring storytellers what would they be?

Paige Thomas, SOC: Keep it simple and true to the story. Sometimes, simpler is better. If you've designed an intricate shot and something is not working, rewind and get back to basics.

Keep the shots in line with the story and what the story is conveying. Less is more sometimes.


About Paige Thomas, SOC:

"In the 80s, I landed an internship on Freddy's Nightmares in Los Angeles, California. I was lucky to work with Jeff Freilich and his assistant Rebecca Pogrow. I got to read scripts and see what was going on at the set. Jeff is an Antioch alum, as am I. Through the Antioch tradition of work/study, this changed the course of my life. I fell in love with camera movement.

"After continuing my studies at Antioch, and graduating, I had the pleasure of working on a project called Emma and Elvis with producer Brenda Goodman based in New York. After that film, I transitioned into camera department working with directors such as Ernest Dickerson, camera people such as Nancy Scrieber, gaffer David Lee, and director John Pirozzi. In 1991, I went down south to work on a TV show called Young Indy. That show took me all over the world with cinematographers David Tattersall and Giles Nuttgens. We filmed in the most incredible locations with amazing directors and executive producer George Lucas. We went on to do a movie for George and after that California was on my mind. I joined the International Cinematographers Guild in 1994 and began to work stateside on features and TV shows. I worked as a loader, 2nd assistant camera operator and a first assistant camera operator until 2005 when I transitioned to operator. This was about the same time many projects were switching from film to digital. Along the way, I was shooting as much as possible but am lucky to be a mom as well to a beautiful 12-year-old girl which has also taken my interest, heart and time."
---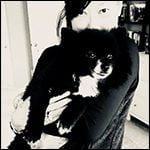 Interview conducted by Jody Michelle Solis. Jody serves as Associate Publisher for StudentFilmmakers Magazine (www.studentfilmmakers.com), HD Pro Guide Magazine (www.hdproguide.com), and Sports Video Tech (www.sportsvideotech.com) Magazine. She enjoys content creation, shooting/editing video, and teaching dance/yoga.