StudentFilmmakers Magazine: What are your thoughts on the LED lighting movement?

Alan Steinheimer: In the beginning LEDs for filmmaking were subpar, typically with a green tint. In my mind the ARRI SkyPanel was the big breakthrough; a whole line of LED lights with a higher CRI, no green tint, RGBW control, and on-going improvements in the software with yearly updates. In the space of 6 years I went from using zero LEDs to shoots that are typically 80% LED now. Some filmmaker purists, mainly DPs, had a hard time accepting the LEDs. Similar to the CD revolution in music a little something (color fidelity?) was lost along the way but younger crews embraced LEDs, and with the continuing evolution of wireless DMX control that is such a natural fit for LEDs, there has been no turning back.

Filmmaking has always been a combination of art and commerce. I think the debate over the color rendering of LEDs has been eclipsed by the powerful attributes of RGBW and wireless control. We are still in the early stages of the wireless part, and I find there are problems with virtually all the dimming software I have used. At times I have wanted to pull my hair out, such as an incident two weeks ago where I opened up my iPad at the start of my work day, and the DMX software refused to open… I lost all the pre-programmed info, had to quickly download the software again, and re-program the entire set while setting up and giving the DP some lighting to look at. Despite these hiccups I am committed to working with LEDs and the wireless DMX. The creative potential is just too great to wait for some perfect version of all the components.


Luke Seerveld (Meet the Offer YouTube creator) and Alan Steinheimer look at the new ARRI Orbiter at ARRI HQ.

StudentFilmmakers Magazine: What big changes do you see in lighting?

Alan Steinheimer: LEDs have wrought other changes in production such as decreased power consumption. Now you have the potential to run an ARRI S360 SkyPanel off a 2000w suitcase generator for an exterior shoot that in the past would have required a much larger generator. In offices I no longer worry much about tapping into power with the low draw of LEDs.

It does feel like crews are a bit smaller and have to move faster. Fortunately, the technology is constantly improving and allowing for that to happen. Certainly, faster camera ISOs and improved contrast compression has made my job a lot easier. I don't have to gel windows with ND nearly as much nowadays.

It also feels like the average production level in terms of quality is continually rising, so even though crew size is averaging down the final production quality is getting better and better.


Alan Steinheimer and bestcoy Ernie Kunze on set.

StudentFilmmakers Magazine: What was one of the most important things you learned on set?

Alan Steinheimer: Collaborating with your crew is what makes filmmaking so fun and powerful, and yet it takes time to learn to work cooperatively. Technical knowledge is nearly useless if you can't work with others. In an ideal world filmmaking is like a continual adult education class where you are constantly learning and improving your craft and team skills.

StudentFilmmakers Magazine: If you could share your Top 3 Lighting Tips for aspiring filmmakers, what would they be?

Alan Steinheimer: At the risk of repeating myself, listening and collaborating are possibly the two most important concepts that aren't typically stressed in filmmaking education. We live in a cowboy culture of everyman for himself and auteur theory where a director is given god-like status. In actual process on a film set it takes an entire village to make a good film of any length. Learning how to give and take, actively listen and process are traits that can improve almost any filmmaking.

To make it a troika I suppose you could add in master your craft. Nowadays that could mean learning the DMX wireless software, or learning how to trouble-shoot HMI problems. Of course, we all harbor ambitions, but make sure you do your homework to back up your qualifications. PAs that say they can grip and then can't properly set a C-stand with a flag don't earn another shot at gripping for a year or two. Balance your ambition with a realistic understanding of your technical prowess.


Alan Steinheimer on set.

Alan Steinheimer has 30 plus years of filmmaking experience, with 25 years of lighting as a gaffer and lighting director in San Francisco Bay Area. His resume includes feature films such as The Darwin Awards, documentary and corporate work, commercials, and music videos such as Britney Spears' Oops, I Did it Again. He appears regularly as a guest expert in the Meet the Gaffer series on YouTube. www.steinheimer.com www.imdb.com/name/nm0826082

Book Spotlight
Shaping Light for Video in the Age of LEDs, 2nd Edition A Practical Guide to the Art and Craft of Lighting Written By Alan Steinheimer
"You might find yourself stumbling your way towards a career in film, and even though you fancied yourself the next Spielberg or Tarantino, the bills kept coming so you were happy to take whatever people were willing to pay you to do. Whether it's working your way up the G&E ladder or doing your time in the camera department, eventually you'll want to call a few more shots than when you're asked to take the group photo at the family reunion because -you know this stuff'. Taking off as an owner/operator, whether a camera person or a fledgling gaffer with some gear, you need to hear from a seasoned mentor who will talk candidly about the ins and outs, the highs and lows, the red flags and the sweet spots of production. I've known Alan for the majority of my 30 plus years in this business and I can't think of a better person for you to hang out with to learn the large picture fundamentals and the more nerdy, fine tuned aspects of what we do as lighting professionals. He's not only smart, and thoughtful, but very willing to share all his tips and tricks... with you! Don't pass this up. Enjoy." ~Luke Seerveld Host of Meet The Gaffer on YouTube
A practical, hands-on guide to lighting for video, this book explores how LEDs are changing the aesthetics of lighting and provides students with an indispensable guide to the everyday techniques required to produce professional-quality lighting in the age of LEDs and wireless control options.

The book focuses on first-hand application of technical knowledge, beginning with simple lighting setups and progressing to more complicated scenarios, and features accompanying diagrams, illustrations and case studies to demonstrate their real-world application. Key topics covered include basic three-point lighting, lighting moving actors, set lighting and exposure, instrument selection, bringing style to your lighting, color temperature and the Kelvin scale, exterior lighting, lighting categories and genres, green-screen techniques, money and budgeting, and electricity and electrical distribution. The book also provides guidance on career paths including what a grip does, case studies with photos and diagrams, and an extensive glossary of set terminology to introduce students to the language of filmmaking.

A must-have resource for film and media production students taking classes in lighting and/or cinematography.

Available for pre-order. Book will ship after September 23, 2020. Purchase your copy today!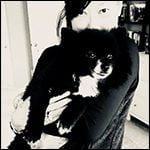 Interview conducted by Jody Michelle Solis. Jody serves as Associate Publisher for StudentFilmmakers Magazine (www.studentfilmmakers.com), HD Pro Guide Magazine (www.hdproguide.com), and Sports Video Tech (www.sportsvideotech.com) Magazine. She enjoys content creation, shooting/editing video, and teaching dance/yoga.