StudentFilmmakers Magazine: What was one of the most important things you learned filming on location?

Courtney Hermann: For me, filming on location is intense, demanding, and uncomfortable--for many reasons. Documentary filmmaking is an extractive process where we enter into the lives of others to take their stories, even as we collaborate with participants to do so. This alone should inspire some anxiety! Add to that the pressure of wrangling the technology, staying alert to opportunities for compelling content, divining the needs of participants and the needs of the crew, etc., etc., etc. I've learned that to manage this, I have to be on high alert on the inside, but appear calm on the outside since documentary production is not about inflicting my experience of the transaction on anyone--it's about the people whose stories I am tasked with interpreting.


StudentFilmmakers Magazine: What was one of the most challenging problems solved?

Courtney Hermann: Production is synonymous with problem-solving so it's hard for me to latch onto a single anecdote. I think I'm making it sound like filmmaking is not fun! And maybe it's not "fun" per se. But it's immensely rewarding to put yourself in a high stakes environment – not a dangerous situation, rather, a consequential one – where you know you'll need to juggle all kinds of facts on the ground to arrive at a set of materials you can shape into a story that reveals some truth, large or small, about what it's like to be a person here on planet Earth. And then there are these moments of wonderment on production where you look around and say, "How did I get here--to this place, with these people, at this moment?" And the answer is, "Documentary brought me here!" And gratitude abounds. My more direct answer to this question is that all challenging problems are best solved with the input and help of a trusted and beloved crew. So. to prepare for the vexing and ubiquitous problems of production, find one or two partners who will do battle with you against the forces that conspire to interfere with the storytelling process.




StudentFilmmakers Magazine: What should documentary filmmaking students know about getting permissions?

Courtney Hermann: It is best practice to seek written permissions to record people and use locations. Public places – public streets, sidewalks, and public property – are fair game for recording, but you can't necessarily plop a tripod down in a public thoroughfare and start recording since you may be blocking vehicle or pedestrian traffic or interfering with an adjacent business. If you are recording in a city, you can check with the mayor's office or local film office to get a permit. Refer to the project forms at the Directing the Documentary, 7e resource page where you can find templates for personal release, crowd release, and location release forms: https://routledgetextbooks.com/textbooks/9780367235574/resources.php. In terms of repurposing existing intellectual property, my highest recommendation to students is to consult the Center for Media and Social Impact's fantastic guide to fair use in documentary: http://archive.cmsimpact.org/sites/default/files/fair_use_final.pdf. When it comes to music, don't use copyrighted music without permissions. Instead, source from a free or low cost royalty-free music site or collaborate with a musician to create an original score.




StudentFilmmakers Magazine: If you could share your Top 3 Tips for Aspiring Documentary Filmmakers, what would they be?

Courtney Hermann:

Tip #1. Be brave.

Tip #2. Be humble.

Tip #3. Be relentless in production and post-production. That means recording as much high-quality content as you can. No documentary filmmaker has ever said, "I have waaaaaay too much great footage to work with". And, editing the piece with such rigor that the viewer cannot detect your enormous efforts to serve their needs and the needs of the story.



Book Spotlight
Directing the Documentary, 7th Edition

By Michael Rabiger, Courtney Hermann

Directing the Documentary is the definitive book on the documentary form, that will allow you to master the craft of documentary filmmaking. Focusing on the hands-on work needed to make your concept a reality, it covers the documentary filmmaking process from top to bottom, providing in-depth lessons on every aspect of preproduction, production, and postproduction.

The book includes dozens of projects, practical exercises, and thought-provoking questions, and offers best practices for researching and honing your documentary idea, developing a crew, guiding your team, and much more. This fully revised and updated 7th edition also includes brand new content on the rise of the documentary series, the impact of video on-demand and content aggregators, updated information on prosumer and professional video (including 4K+), coverage of new audio & lighting solutions and trends in post-production, coverage of the immersive documentary, and provides practical sets of solutions for low, medium, and high budget documentary film productions throughout. The companion website has also been fully updated to a variety of new projects and forms.

By combining expert advice on the storytelling process, the technical aspects of filmmaking and commentary on the philosophical underpinnings of the art, this book provides the practical and holistic understanding you need to become a highly regarded, original, and ethical contributor to the genre. Ideal for both aspiring and established documentary filmmakers, this book has it all.

Order your copy of the book, "Directing the Documentary, 7th Edition", at the StudentFilmmakers Online Store today.



Courtney Hermann is an Assistant Professor of Film at Portland State University, an award-winning independent documentary filmmaker, and a non-fiction media producer. Courtney's work is distributed by Public Broadcasting Service and its affiliates, through educational film catalogues, at film festivals, and through impact distribution to community partners.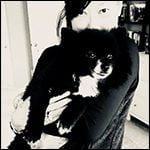 Interview conducted by Jody Michelle Solis. Jody serves as Associate Publisher for StudentFilmmakers Magazine (www.studentfilmmakers.com), HD Pro Guide Magazine (www.hdproguide.com), and Sports Video Tech (www.sportsvideotech.com) Magazine. She enjoys content creation, shooting/editing video, and teaching dance/yoga.